Looking for a perfect Child gift?
When it comes to choosing the perfect gift for you kid, you can't go wrong with a cocoon swing! Handmade from natural double fabric layer, durable and safe, designed for kids up to ±10 year old. Wonderful space to play, relax or read a favourite book.
shop cocoon swings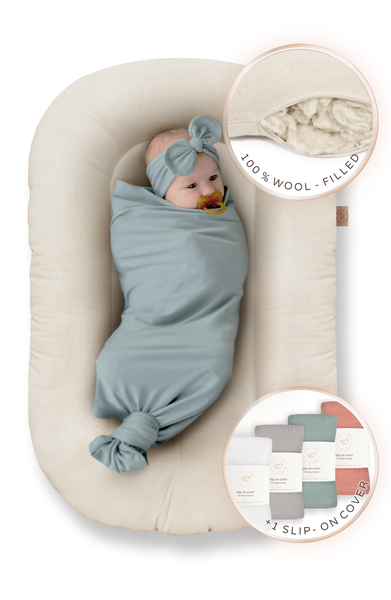 Baby & Toddler Snuggle Lounger
With a natural Sheep Wool or synthetic polyfibre filling. Covered with soft and fluffy organic cotton slip on cover. Perfect for newborn from the first day, up to 2-3 years (toddler version).
For cozy daily supervised baby naps, playtime, tummy time, as a changing station or to take with yourself anywhere on the go as a tiny baby cot!
A wonderful gift idea for an expecting mum!
SHOP NOW
More than ordinary bassinet
a small space, cozy swaying and rocking nest, a wonderful first baby bed for the first and most important months in her or his life...
Shop hanging cradles
Key features of our cradles
Swingy Nest Gift Card
Shopping for someone you love but not sure what to give them? Give them the gift of choice with a SWINGY NEST gift card!
SHOP GIFT CARD
WHAT PARENTS SAY...

Swingynest cradle is my biggest help after a third baby girl was born! The hanging cradle was my dream! Twins not only get more of my attention when I am hands-free, but also help me take care of their younger sister, as they are happy to gently sway and rock her in her cradle! :) Such a great relief! Although there is no better place for my baby daughter than being surrounded by my embrace, the cradle is the place where she also calms down and even falls asleep herself, so it helps me a lot! I could single out another extremely good feature - a spring! It is perfect! With the spring, the bassinet not only swings, but also has a rocking motion, which is especially soothing. I sincerely recommend the hanging cradle as it is an amazingly helpful 'tool' for mum!

TOMA
WHAT PARENTS SAY...

Our wool filled baby lounger and slip on covers are beautifully made and arrived safe and super fast. I'm so happy with them and most importantly our baby boy loves it! The nest keeps him snuggled so comfortably, cozily and safely in his crib so he doesn't feel like he has so much room and it's more like his bassinet. I also lay it directly on my bed instead of using a cosleeper. It's really so cozy looking, I wish I could have one adult sized...

TAMMY
WHAT PARENTS SAY...

The light grey swing was truly the best 1st birthday gift for our baby girl :) She loves it and will swing for 30 minutes at a time, and she doesn't do anything for 30 minutes except sleep! It was very easy to hang. I've received so many compliments on it, a few people have asked if they come in adult sizes because it looks so comfortable. We became regular customers of Swingy Nest now as we previously used their beautiful hanging bassinet of the same colour. Their products are not a mass production and very well handmade... Thank you, this will definitely not be the last purchase - already planning on having their play tent for the next birthday.

MELANIE